WEDNESDAY FEBRUARY 1, 2006
THE PROJECT COMPLEXDIS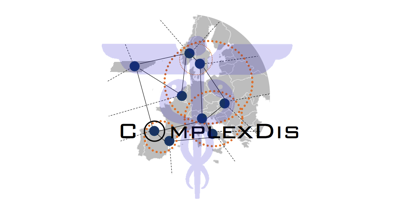 ComplexDis:  Unravelling complex diseases with complexity theory: from networks to the bedside (FP6-2005-NEST-PATH, EU-STREP N. 043241)
Project type: Specific Targeted Research Project (STREP)
Funding organization: EC, FP6
Project duration: March 2007 – February 2010
Web page: www.complexdis.org.gu.se
Partners:
    Mikael Benson, Göteborgs University (project coordinator), Sweden
    Eivind Hovig, Rikshospitalet, Radiomhospitalet, Norway
    Lajos Rethy, Svábhegy" National Institute of Paediatrics, Hungary
    Filippo Castiglione, National Research Council, Italy
    Michael A. Langston, University of Tennessee, USA
    Antonella Muraro, University of Padua, Italy
    Pablo Villoslada, Clinica Universitaria de Navarra, Spain
    Richard V. Solé, Universitat Pompeu Fabra, Spain
    Luc Steels, Vrije Universiteit Brussel, Belgium.
Project aim: Common diseases like allergy, obesity and cancer are complex. Each of these diseases is caused by altered interactions between multiple genes. These alterations may differ between different individuals although they appear to have the same disease. The aim of ComplexDis is to identify such proteins using high-throughput technology, high-performance computing and systems biology.
Work package 4 study on TH1/2 differentiation and relative simulation tool. Publicly available material.