SATURDAY JUNE 12, 2004
SIMULATING THE IMMUNE RESPONSE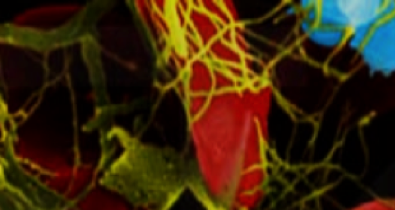 A simulation system to model the immune system response.
The code can be customized to simulate various immune-malignancies interactions
C-ImmSim is an Agent-based simulator of the immune system response to a generic pathogen. It has been originally developed as a porting in C of the IMMSIM simulator written by Philiph E. Seiden and Franco Celada in APL (IBM) language.
As the first porting in C, C-ImmSim has enabled the implementation of other C version of the original model: IMMSIM++, IMMSIM-C are the most know ones.
C-ImmSim has now evolved to take into account other features not included in the original work of P.E. Seiden and F. Celada. In particular, since the first version, the model has been enriched to simulate HIV infection and HAART therapy, cancer immunotherapy and immunoprevention. Customized versions of C-ImmSim have been developed to simulate hypersensitivity reactions and Epstein-Barr virus infections. These versions are not available for download.
More on this link